iRest: Breathing for Life
The principles, foundations, and practice of prāṇāyāma
January 25—December 13, 2022
with Richard Miller
Harnessing your breath and life force is both an art and a science. In this in-depth 12-month course, you'll learn the principles and practices for engaging in an informed, regular, and sustained practice of prāṇāyāma (breathwork).
The practice of prāṇāyāma awakens and strengthens the resilience of your body, mind, emotions, and spirit. It balances your energy and supports your health, healing, and well-being. 
Engaging the breath with intention also offers direct access to your underlying nondual Essential Nature, which enables you to feel deeply connected within yourself, and intimately interconnected with all of life.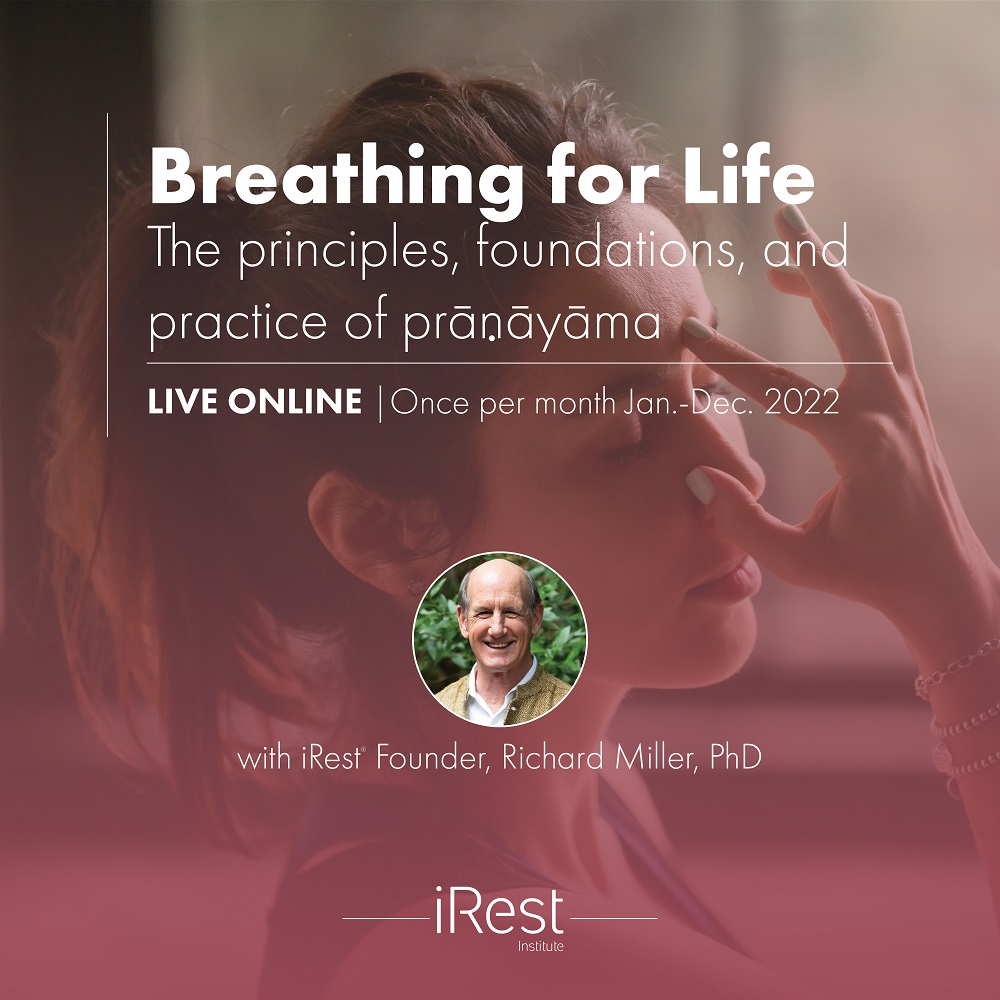 This course is designed for anyone wanting to deepen their knowledge and skills, and develop a personal, at-home practice of prāṇāyāma. This includes students and teachers of yoga and meditation and those who wish to share these principles and practices with their friends, students, or clients. And, health care professionals such as psychologists, social workers, other mental health professionals, and medical doctors who will find this course to be a complementary addition to their skillset.
You'll explore the underlying philosophy, theory, structure, energetics, and in-depth practices of prāṇāyāma.
You'll learn and experience:
The anatomy, psycho-physiology, and neuroscience of respiration
The foundations of prāṇāyāma for health, healing, yoga therapy, and meditation
A safe and sustainable way to develop your own practice of prāṇāyāma that's aligned with your personal intentions and physical, mental, and spiritual wellbeing
The underlying philosophy of prāṇāyāma
A multitude of prāṇāyāma techniques that support health, wellbeing, healing, and awakening to your Essential Nature
How to share these practices with others
You can expect:
12 monthly two-hour live online Zoom classes with Richard
Each class to include a live lecture, guided prāṇāyāma practices and a Q&A session to help you build a successful and sustained personal practice 
Self-paced, at-home learning
An online support forum
Recordings of each session to be available during the entirety of the course
 A comprehensive manual, handouts, and suggested between session readings and home practices
Approximately 24 hours of continuing education for various organizations
 Topics included in this course:
Yogic philosophy of prāṇāyāma including the five vāyus (movements of energy) and the role of prāṇa and apāna (inhalation and exhalation)
The energetics of prāṇāyāma (laṅghana and bṛmhaṇa theory)
5-element and 6-koshas (sheaths of identification) theory
Relevant sūtras related to prāṇāyāma and its use in meditation and awakening
Anatomy, psycho-physiology and the neuroscience of respiration
Qualities of the breath and breathing inquiries
Working with the breath in movement and āsana
The four types of breath
The seven vital breathing spaces
The three breathing spaces and 3-part breathing
The role of the glottis in prāṇāyāma 
Hand and face pressure points related to the breath
Preparatory cleansing practices of talabya (tongue and mouth), netī kriyā (use of salt water and string), and agnī sāra and naulī (abdominal toning)
Coherence and Buteyko breathing regimens
How to build and use sama vṛtti and visāma vṛtti ratios (equal and unequal ratios)
The use of antara and bahya kumbhāka (retention and suspension of the breath)
The use of bandhas (locks) in prāṇāyāma including mūla (perineal), uddiyāna (abdomen), jalandhāra (chin) and jiva bandha (palate)
Prāṇāyāma practices, including anuloma, viloma, pratiloma ujjayi, mahat Kapālabhāti, nādi-shodhana, ardha sharīra, bhastrika, sūrya and chandra bhedana, brahmarī, mūrchā, and plavinī
The use of breathing and healing mūdras (seals), including sharīra (physical), prana nādi (energetic), merūdanda (spinal), prāṇa kriya (cleansing), aswinī (sphincter), vajrolī (mouth), krāma (steps), bhairavi (meditation), kaka (tongue-mouth), and kecharī (tongue)
The use of seed, vowel, and consonant sounds (nāda) that accompany and support the practice of prāṇāyāma
The therapeutic use of the breath for working with different physical and mental issues asthma, emphysema, blood pressure, sleep, and depression.
The use of breath in meditation for stabilizing, grounding, and directly pointing to Essential Nature
Breath meditations from the ancient Nondual Śaiva text, the Vijñāna Bhairav
$699 – Teachers Community Network (TCN) Members Pricing *
$799 – Early Bird Pricing *
$999 – Regular Pricing
(* TCN and Early Bird Pricing available through November 1, 2021)
† Approximately 24 Continuing Education (CE) credits. CE registration information will be sent with your event registration receipt. 
Clinical CE's are available for those with PSY, RN, LCSW, and MFT licenses. For more information on our clinical CE guidelines and registration please click here. 
General CE's will be available for Yoga Teachers and other non-clinical licensed participants.
I'm not a teacher. Can I still take this course?
Yes! This course is designed for everyone: new and long-term students, yoga teachers, and healthcare professionals. This course is for anyone interested in developing a personal practice of conscious breathing and for those who wish to share conscious breathing with others. 
I have limited time during my week to practice. Is it still worth taking this course?
Yes! This course is designed to help you develop a personal practice of prāṇāyāma. You'll learn a variety of practices that you can do in as little as 1-5 minutes. Maximum benefits are achieved through a regular 20-minute home practice.
What if I can't attend every session?  
This course runs from January to December 2022. The live monthly classes will be held from 2:00 p.m. – 4:00 p.m. pacific time and will be recorded. You'll be able to catch up on anything you miss on your own time.
Please note that if you register to receive Clinical CE credits, you must participate live during each session. Recordings cannot substitute for live online participation, and attendance will be taken at each session. 
Can I take this course if I have respiratory issues?
Definitely. Many of the techniques can be adapted for use with a variety of respiratory issues. Contraindications for specific conditions are pointed out and discussed during the course. 
Will there be homework?
Yes. This course consists of 24 hours of live online lecture, practice, and Q&A sessions. A comprehensive manual and between session readings and practices are included.
Is there a refund policy for this course?
You can receive a full refund, minus the credit card and processing fees, up until the start of the course.
This event will be hosted once every month on a Tuesday from January to December 2022. All sessions will be held from 2:00–4:00 PM Pacific Time.
This event will be hosted once every month on a Tuesday from January to December 2022. All sessions will be held from 2:00–4:00 PM Pacific Time.
Tuesday, January 25, 2022
Tuesday, February 1, 2022
Tuesday, March 1, 2022
Tuesday, April 5, 2022
Tuesday, May 3, 2022
Tuesday, June 7, 2022
Tuesday, July 5, 2022
Tuesday, August 9, 2022
Tuesday, September 6, 2022
Tuesday, October 4, 2022
Tuesday, November 1, 2022
Tuesday, December 6, 2022
† CE credits for psychologists are provided by the Spiritual Competency Resource Center (SCRC) (www.spiritualcompetency.com) which is co-sponsoring this program. The Spiritual Competency Resource Center is approved by the American Psychological Association to sponsor continuing education for psychologists. The Spiritual Competency Resource Center maintains responsibility for this program and its content.
California Board of Behavioral Sciences accepts CE credits for LCSW, LPCC, LEP, and LMFT license renewal for programs offered by approved sponsors of CE by the American Psychological Association.
LCSWs, MFTs, and other mental health professionals from states or provinces other than California need to check with their state or province licensing board as to whether or not they accept programs offered by approved sponsors of CE by the American Psychological Association.
SCRC is approved by the California Board of Registered Nursing (BRN Provider CEP16887) for licensed nurses in California.
For questions about receiving your Certificate of Attendance, contact the iRest Institute at events@irest.org. For questions about CE, visit www.spiritualcompetency.com or contact David Lukoff, PhD at CE@spiritualcompetency.com.