The Labyrinth is an ancient pattern found in many different forms and cultures around the world. Orchard Hill Center's pattern is a classical 7-circuit design, dating back to ancient times. Labyrinths are open to anyone to walk as a non-denominational, cross-cultural practice. Walking a labyrinth has been considered a holy pilgrimage, spiritual quest and a journey within life's larger journey. Walking the labyrinth can quiet the mind, encourage meditation and insight, helping to find peace and balance in life. The labyrinth is also used for celebration and ceremony, bringing people together from all walks of life.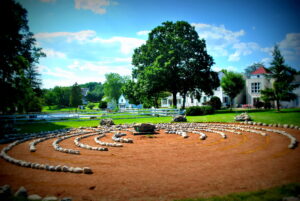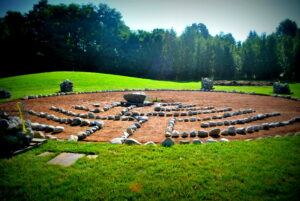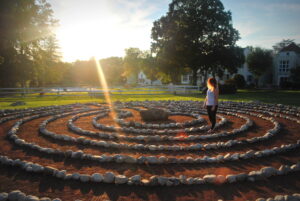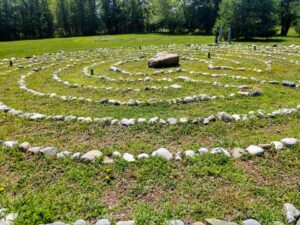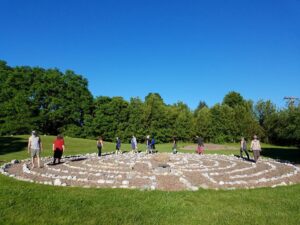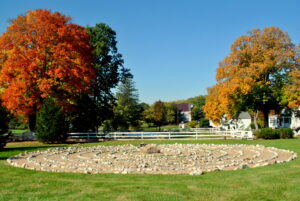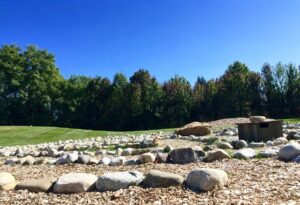 "In contemplating the labyrinth, one phrase which came to me again and again: 'Not all those who wander are lost.' ~J. R. R. Tolkien. There is no right way or wrong way to walk the labyrinth. You make a choice to go in, go around and around its circuits, yet always find your way to the Center. For some, it represents a journey to our own center, a meandering but purposeful path that always leads back out into the world. A perfect metaphor!" ~ Deborah Metzger, Former Owner and Director of Princeton Center for Yoga & Health.
The labyrinth was created in Summer 2016 as part of our 20th anniversary celebrations by Deborah Ketter, BFA, E-RYT 500, and certified, advanced Veriditas labyrinth facilitator.
The Labyrinth is open to all.
Come and walk, meditate and explore.
Weekdays: 9 am to 12 pm and 4:00 to 7:00 pm
Weekends: 8:00 am to 4:00 pm
Please, no picnics, fires or unleashed pets.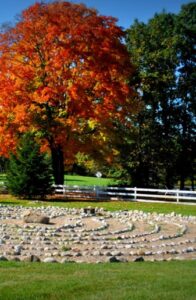 Friendly Reminder: The Orchard Hill labyrinth is privately owned by Orchard Hill Center and open to the public. The labyrinth is for personal enjoyment, reflection and meditation only. The use for private/commercial events, programs and gatherings requires a written permission from Orchard Hill Center PRIOR to the event. Any photographs taken at the labyrinth are also for personal use only and are not to be used for commercial purposes without express written permission from Orchard Hill Center (such purposes including, but not limited to: websites, calendars, cards, portraits, etc.) and we kindly ask you to credit/tag Orchard Hill Center.