By Franziska Raeber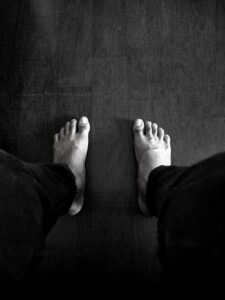 Tuesday is my yoga class day. My time out. Just me and my yoga mat and, well, a bunch of other people doing yoga in a room. An all-level class, so you have the ones that go into a head stand as their 'relaxing' pose and the commoners like me, that just want to flop on the back and rest. Finally we all have worked through our 'standing ovation' poses and are down to floor work. Forward bends… who doesn't like those, right? Well, there is always that one pose where we have our legs straight out and lean over our legs to reach for your feet and rest your head on our legs. All level means that some can reach waaaaaaaaaaaay beyond those toes. And others like me, have tremendously long legs and our arms seem T-Rex sized and resting the head on our legs is just wishful thinking. So what do you do, lift your head. Sure enough you hear that voice of your former yoga teacher Deborah in your head: "Don't look up, don't check on what others are doing. That will just destroy your 'contentment'." So you lower your head and reach for those toes. Little by little, breath by breath you can relax. Yes, I was able to hold on to my feet and what was far at the beginning felt closer the more I let go.
So here I am today: In desperate need of that box of pasta on the very top shelf in my cupboard. So far up. On my toes, arms up and I reach… still too far… inhale, exhale and I get closer I can touch it! YES! I can do this. Breath by breath, I inched closer to that box of pasta. Finally I was able to grab it! Yes, I made it! Applied Yoga 101! So cool! That very moment my son looks up from his book and says: "Mom, you should just have used the step stool."
Conclusion: Sometimes it is hard but trying can be worth it and sometimes you might just get the stool.
Franziska Raeber took her first yoga class in 2005 and soon joined the team of Princeton Yoga as SEVA. When she moved to Florida in 2010 she couldn't quite let go of Princeton Yoga and is now manager for all things marketing and business. Next to working and being a busy mom of three, she enjoys photography, yoga, gardening, cooking and being involved in the community.