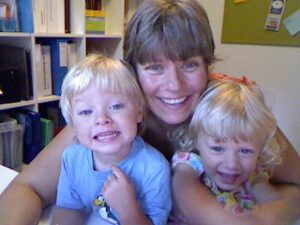 Part of our series "People of Princeton Yoga" we asked students, teachers and employees to write some of their thoughts on yoga. Meet Franziska Raeber, she has been part of what we call the 'experiment of Princeton Yoga' since 2005. First as student and as SEVA, later as manager for all things marketing and business. Even after she moved to Florida in 2010, she remains part of our team.
"So this is me…  Marketing Manager for Princeton Yoga. But not a Yogi. My only yoga qualification is to like yoga. I am neither a yoga teacher nor vegan nor do I practice yoga/meditation daily. Nope, I am just person that works from home, handles 3 grade schoolers, chases after way too many pets, gets engaged in excessive amount of committees/projects and tries hard not to fall asleep before the kids do… Yoga is more often NOT on my mind than on it. But still I believe I am a 'Yogi'.
Yoga has been part of my life for over 12 years. I have always attended classes, some I really liked and some I choose never to go back to. To be able to represent 'my' Princeton Yoga Center I do read or come across loads of articles about yoga, what it is, what it is not, with goats, beer, heavy metal, standing, lying down etc. I admire all the dedicated yogis that are passionate about their practice and I applaud them for their dedication of living the yogic life. Often I hear my thoughts whispering: "You should do/be that!" But then I face my real and often chaotic life and know that meeting those lofty goals isn't me. But still I think I am in my own way a 'Yogi'.
This morning while I was walking my dogs, I challenged myself to write up for fun my thoughts on how yoga is part of my life, off the mat … in my life. Write those thoughts down out of the perspective of one of those yoga students that only shows up to class once a week, can't do any fancy poses and is far from elegant while holding any pose and couldn't repeat a Sanskrit word if her life depended on it. Well someone like me!
Taking on this challenge feels like doing that crow pose in last week's class, I knew how it was supposed to look, but then my knees wouldn't want to go on the elbows and my mind told me that I will fall flat on my nose… and still I tried and yes I failed, but I intend to try again and so here I am writing my first blog. I am taking my practice off the mat and even if I fall flat on my nose I am trying this. Yes, my life is Yoga and I am Yogi."
Check in and follow the thoughts of a Non-Yogi talking about Yoga or not.
Franziska Raeber has been part of Princeton Yoga since 2005. Today she manages Princeton Yoga's marketing, website and contracts all the way from Gainesville FL