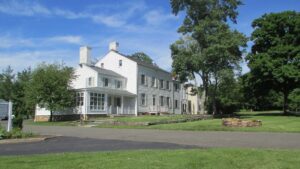 by Anthony Stoeckert
Reprinted from the March 21, 2012, issue of U.S. 1 Newspaper
Deborah Metzger didn't know anything about running a business when she decided to open a yoga center in 1996. But she had first-hand experience in the healing power of yoga, and a desire to share her knowledge with students and support them on a journey to health.
It would appear that Metzger was onto something. The Princeton Center for Yoga & Health, which she founded in 1996, has just expanded into spacious new quarters at 88 Orchard Road in Skillman, continuing to offer a wide range of classes in yoga and meditation, teacher training and holistic health services.
The new facility, in a center that is built around a 19th-century farmhouse with two more recent additions, is a space that has housed unconventional business models in the past. It was first occupied by American List Counsel in the 1980s, when the high-tech direct mail management company ran a California-style operation, with pool parties, cookouts, and employees' children dropping by to pet the animals that still occupied the working barn. American List Counsel moved — at first regrettably — to a traditional office at 4300 Route 1 when it outgrew the space.
 Metzger describes the five-acre campus as an "oasis in your backyard," and it's easy to see it as a site of not only yoga lessons but also longer, get-away-from-the-daily-routine retreats, even though the center is less than a mile off busy Route 206.
What's most amazing about the move is not this bucolic setting, it's rather that the yoga center owns it. That's right, yoga has become a growth industry — see sidebar, page 34, about a new training program to meet the increased demand for yoga teachers.
After years of renting spaces in professional office parks that catered to medical offices, most recently at 50 Vreeland Drive in Montgomery, Metzger had her eye out for a more suitable space. As luck would have it, commercial property was declining in value during the recession, and 88 Orchard Road was languishing on the market. Metzger and her husband bought the property around two years ago and began the renovation process that converted the cubicles that housed the American List employees into the sunny, spacious rooms that now are the scene of quiet yoga sessions.
For Metzger the plunge into the commercial real estate world "was a high learning curve. I have the ideas, but no idea of what to do about them." She had to delegate, hiring a construction manager, Ed Dubkowski, and an operations manager to run the office. "I used to do it all myself." The year and a half consumed by the renovation, while modest by some standards, was frustrating for her. "I had to practice my patience," says the yoga teacher.
But the result has exceeded expectations. The conventional office tenants at the site, including a law firm, and marketing company, help pay the overhead of the yoga studio. "The math really works," says Metzger. And the yoga side of the facility seems a world apart.
Fulfilling a desire to create a peaceful, inviting space from the time someone first walks in the door, Metzger's waiting area offers tea, Wi-Fi, snacks for purchase, and sometimes free samples. A back entrance features a ramp for handicap accessibility, and the building has an elevator to allow for access to different floors.
Although Metzger says yoga is about change, she designed the new rooms with an eye to keeping the transition smooth for students. Many of the new center's rooms have the same look and feel as rooms in the old center, and some even share names from the prior location.
The Citrine Room is for hot yoga, and is heated at about 105 degrees. It features wooden, eco-friendly bamboo floors, calming blue walls, and a white ceiling. The Amethyst Room has the same colors but is larger and can accommodate 30 to 40 people (class sizes at the center average about 8 to 15 people, according to Metzger). Skylights fill the room with natural light.
Rooms like these host classes, including beginner yoga, easy flow (a slow flow workout, designed to develop balance and strength and increase flexibility), gentle yoga, pre- and post-natal yoga, hot yoga, and classes designed to reduce stress, just to name a few of the center's offerings. Other services include private yoga, meditation, and integral psychotherapy.
The new space is conducive to performances and public gatherings. This weekend PCYH hosts a moving meditation practice led by Nancy Genatt on Friday, March 23, and a sing-along with singer/songwriter David Brahinsky on Saturday, March 24. In May the center will host nine Tibetan Buddhist monks, who will spend four days building a sand mandala at the center. The mandalas are created when there is a need for healing, according to Metzger, and the monks consider our current time to be one in need of respect.
During a closing ceremony, Saturday, May 12, at 2 p.m. the colored sands will be swept up and poured into a nearby stream to symbolize the impermanence of all things.
"People have remarkable changes in these programs," says Metzger, referring to the broad spectrum of activities at the center. "I love teaching. I love that people let me be with them in this way and support them in this way but underneath it all is that it's really them finding their own answers. I'm not giving them anything magical. I'm sharing with them tools that I've picked up along the way, things that I've loved, and hopefully giving them that safe environment where they can find it for themselves."
For Metzger, who lives in Roosvelt, with her husband Solomon, a retired administrative law judge, it's about students getting in touch with themselves, and helping them find a way to the answers that are within. (Her own two sons have gone in slightly different directions — the older is a rock climber who has a doctorate in physical therapy with his own PT practice in Truckee, California; the younger has a master's in counseling. "They get what I do," Metzger says.)
"You can go to any mountaintop or any guru or all kinds of motivational programs, but really all the answers are inside and all the training that I've taken over the years and the things that I've been attracted to, remind me of that and are about that," she says.
Metzger was born in Germany. Her parents, Isaac and Rose Jacobs, were Holocaust survivors from Poland who met in a displaced persons camp in Germany after World War II. She was born in 1950, and the family moved to the U.S. on a military transport ship for refugees in 1951. The family lived with relatives in Manhattan, and her father worked two factory jobs. The family then moved to Elmhurst, Queens, and Metzger's parents ran a laundromat in Jackson Heights.
As Metzger notes, there's a ton of literature about children of Holocaust survivors, and the bottom line is that many of them end up wanting "to fix the world." She followed that path, graduating from City College of New York with a bachelor's in psychology in 1973. Then she graduated with a master's in social work from Penn in 1977.
As a graduate student, she founded and served as the first president of Womanspace in Trenton. Her social work career also included working for the Department of Health for New Jersey's Division of Mental Health, and as a mental health administrator for Mercer County.
Her path to becoming a yoga instructor started in 1984, when she was pregnant with her second son. Metzger fractured her ribs and was diagnosed with asthma. The healing process was slow, and doctors told her that developing asthma as an adult meant she'd always have it.
"I just didn't like that life sentence," she says, "so I started taking alternative means of healing in addition to the many medications I was on."
Her pursuit of alternative methods led her to the Kripalu Center in Massachusetts, where she participated in a program titled Health for Life, which combined yoga, nutrition, and mind-spirit awareness.
"The whole approach led me to a new way of appreciating what pain and illness mean in the body and the signals that it gives you," she says. "And for several years after I started practicing more in earnest, my asthma symptoms actually subsided."
She learned that if we don't pay attention, our bodies "whisper" to us if we're not doing right by them. And if we ignored those whispers, our bodies get a little louder until they start shouting at us to a degree we can't ignore. She learned that lesson because of her job with the state, being pregnant, and taking care of herself.
Metzger studied at the Kripalu Center for Yoga & Health and became certified to teach in 1991. She's also certified to instruct Dharmic Yoga and as a Phoenix Rising Yoga Therapist.
She started teaching in spaces she rented in Princeton, but each spot had hurdles. In one location a martial arts class in a nearby room would play rock music while her students were trying to do yoga, another was in the basement of a sports club next to a men's locker room.
Another sign that she needed a new space were the duffle bags she used to carry equipment in: blankets, cushions, props, etc. When she found herself carrying around four of those bags, she knew she needed a home. At the same time, she was starting to expand her offerings.
"I started to invite some of my colleagues from Kripalu, who I thought were fabulous teachers, to come and do Yoga-related workshops in the area," she says. "At that time, I kind of had a center without walls and I decided it was finally time."
Running her business is, she says, her yoga. "This is my practice," she says. "I'm learning about myself through this." Among her practices is the belief that the present moment is when we can make changes. "We tend to dwell on the past and worry about the future, but the past is dead, and we have no clue what the future holds, so what we have is the present."
She came across an example of this when she trained with Jon Kabat-Zinn and Saki Santorelli in "mindfulness-based stress reduction" at the University of Massachusetts. The class was going through vigorous exercises, and one woman with severe knee pains said she was doing things she never imagined being able to do. "In that moment, she just suspended what she knew about her body, what she knew about her past," Metzger says. "She didn't go beyond where it would pain her, she just said, in this moment let me have a little experiment and see what I can do. And it astounded her and it was very poignant when she shared that with the group."
That, she says, can be applied to injuries, high blood pressure and other things that can make one proceed with caution while performing yoga, Metzger says. But, she adds, in each moment students can make a choice between what feels right at the time, what would be OK to try, and what might push things too far.
"And if you can be in that moment, you might be amazed at what's possible, and that's the truth with everybody doing yoga in any moment, you don't really know," Metzger says. "You try it, and you find a little place with an edge when you do a yoga practice where more would be too much and less would be not enough. You want to find that edge where you're slightly pushing yourself, but not too much, so you challenge yourself, you challenge your beliefs about yourself and who you are, what's really true in this moment."
She says she can see how people approach life through yoga. A-type personalities might push themselves, while those who back off from challenges might be less assertive.
"You can try yourself on for size in a yoga pose, even the simplest yoga pose, in a way that might be different from your habitual way of doing life," she says. "And then you see what happens, that's where the miracles happen."
Metzger's philosophy also means creating a welcoming atmosphere for all different types of people. Students don't have to wear any yoga-specific outfit ("they can come in their jammies for all I care," she says) nor do they have to adhere to any kind of diet or lifestyle, so vegetarians and carnivores can practice yoga side-by-side.
"There will be a person who works at the Watershed or on an organic farm and then there'll be a Merrill Lynch financial planner," she says. "That doesn't matter, when you come through the door there's a whole range of people, ranging from college students to people approaching 90.
"It's a question of what class you're taking and does the teacher know how to approach you. You're going to teach differently toward somebody who might be 90 and you might have some concerns about their bones and other things versus somebody who's a 20-something."
She says she has taught yoga to people in wheelchairs and people with MS or Parkinson's. There are stretches she teaches for office workers, and if they can be done in an office chair, they can be done in a wheelchair. They involve spinal movements, forward and back bends, side stretches, and exercises that Metzger says keep fluids in joints and oxygen moving through the body.
Metzger says she and her staff have created something unique in the center's environment, relationships with customers, and working to ensure that the yoga taught at the center is authentic and proven, and not a fad. Yoga is becoming more accepted, and many doctors are advising patients to try it, which is good for business. But with that comes a risk, she says, because there are now places where people can get a teaching certification in just days.
"When you do that, you lose what yoga is," Metzger says. "You lose what's at the heart of yoga, which is what makes it more about an individual not going beyond where their body should go and teachers understanding that." It should be, she says, about a pose fitting a body as opposed to a body fitting a pose.
"That's another part of what I believe we have to offer, it's not some fad, we're looking at the more therapeutic realm, and even with the vigorous challenging classes, we have teachers who are trained to understand about not pushing beyond their edge and their limit," Metzger says. Students are taught to work with the bodies that they have.
All of that fits part of her mission statement, to create a safe, inviting environment where students discover their own answers. Another element is to create a space for "right livelihood," a concept that involves earning your living by doing something meaningful.
"It's really a big experiment to see if we can earn our living this way," she says.
Taking money to teach yoga seems like a contradiction, but Metzger says it's a necessary component to providing yoga classes the way she wants to.
"I have to remind people sometimes when they look at me as this big, bad businesswoman in this yoga world, it's like, well if I can't pay the rent and the mortgage and the utility bills, then none of us can play here," she says. "And the idea is to be supported mutually in this right livelihood."
While yoga is becoming more popular and more accepted, even making its way into video games, Metzger acknowledges that it can be scary for people to try something new, and that all those options are a way to encourage new students to break the ice and work up the courage to walk through the door, where they can expect a safe, welcoming environment and not worry about what they're wearing or how they're performing. And taking that step, not worrying about all the stuff that clogs our heads, is all part of the yoga experience, according to Metzger.
"The challenge for all of us in yoga is to get people to come through the doors, and we're constantly looking at what's going to make it easier for people to make that first choice to come through the door," she says. "And we hope that once they come through the door, they will be back because they're well-received and they feel safe and they've gotten something for themselves that they feel is really precious that they did not imagine would be there."
"All the teachers at the center are very knowledgeable," she says. "If you go in and say, 'This is bothering me,' they tell you how to modify the pose as necessary and they're very supportive in teaching you how to work with the body that you have."
Metzger is confident that by applying yoga principles to the way she runs her business, the Princeton Center for Yoga & Health will continue to thrive.
"I'm providing the best environment that I can with this nurturing space, and people will find it and come," she says. "The right people will come through the doors at the right time, that's been the history all these years. People have come and gone, teachers have come and gone, but there's that common thread of what this experiment called Princeton Center for Yoga & Health is all about. It's still an experiment and it will remain an experiment."
Princeton Center for Yoga & Health. 
Deborah Metzger, founder/director. orchardhillcenter.com/health-wellbeing/