By Susan Van Dongen, Special Writer
Published Centraljersey.com April 18, 2012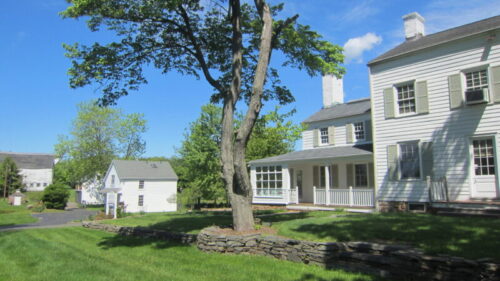 The sound of soft, melodious wind chimes drifting through the trees and former farmland is the first thing that welcomes visitors to Princeton Center for Yoga and Health's new location, at 88 Orchard Road, just off Route 206 in Skillman.
"The new Princeton Center for Yoga and Health is situated at the 5-acre Orchard Hill Center, part of what once was a 19th-century farm.
Founder and director Deborah Metzger says when she and her husband, Sol, were first imagining what the space might become, before its soft opening in January, something just told them to put up some wind chimes. It's as though, to paraphrase the line in the movie "Field of Dreams," "If you send out beautiful sounds, they will come."
The relaxation that the chimes evoke is just a sample of the healing potential that awaits as clients walk through the doors of PCYH. There's a subtle fragrance in the air (perhaps one of the Young Living Oils they have for sale), tidy rooms with immaculate wood floors, cozy chairs with colorful cushions here and there, distressed Mission-style benches, plants, crystals and geodes. Visitors can relax in the reception room, enjoy tea, purchase snacks, and even enjoy free Wi-Fi waiting for a class or session to begin.
Upstairs, a Buddha statue serenely observes the meditation room with its minimalistic decor, ideal for contemplation. All around, lots of windows allow visitors to gaze at the bucolic surroundings of the 5-acre Orchard Hill Center, all part of what once was a 19th century farm. A variety of uses for the outdoor space are still in the planning: Ms. Metzger says she envisions a sculpture garden and labyrinth, maybe even walking meditation.
Back inside, the yoga rooms are painted in a soothing color somewhere between blue and lavender, the same hue Ms. Metzger had in her former space at Vreeland Drive in Montgomery, where PCYH had been located since the summer of 2002.
"It's one of the ways of bringing the hearth with me," she says. "It's a color everyone loves, and it changes as the light changes."
And, as with her previous space, the rooms are named after healing gemstones. There is the Citrine Room, named after citrine quartz, related to the third or "naval" chakra, the body's energy center. Citrine is traditionally said to cleanse the aura fields, stimulate intuition, promote optimism and diminish self-destructive tendencies. It is warming, energizing and attracts abundance.
The Citrine room is downstairs, and has been designed for hot yoga, with specially insulated walls, humidifiers and a heating system that can bring the room to a toasty 105 degrees Fahrenheit.
"People either love it or hate it, but it's become very popular," Ms. Metzger says. "It's wonderfully detoxifying and cleansing, and you get your flexibility quickly because the muscles are so warm.
"We also have hot yoga basic and hot vinyasa flow where the room would be between 80 and 95 degrees. We have classes from the most gentle to the most vigorous."
Now, thanks to full bathrooms in the new space, a hot yogi can shower after a session. Ms. Metzger is even planning to offer very early morning hot yoga at PCYH, for participants who want to start their day with this practice, then shower and head off to begin the rest of their day, centered and energized.
Upstairs is the larger Amethyst Room, named after the healing gemstone which is said to relate to the sixth chakra, "the third eye." Amethyst is said to support meditation, the connection to spirit and divine love. It has been used to encourage and support sobriety.
This lovely room, which can accommodate some 40 people, has a skylight which gives the added bonus of looking up at the stars during an evening class. The space will see classes in beginners and easy flow yoga, pre and post-natal yoga, therapeutic and restorative yoga, and others along the more gentle yoga spectrum.
In addition, the Amethyst Room is being fitted with state-of-the-art audio-visual capabilities, in the hope of hosting educational presentations.
Ms. Metzger is most excited about growing and nurturing mindfulness-based stress reduction and cognitive therapy sessions and workshops at PCYH. This is an all-encompassing, holistic approach to psychotherapy, treating the whole person, taking into account the individual's cognitive and behavioral issues, but also their physical health, and even spirituality.
As lovely as the new PCYH space is, with its array of offerings" from drum circles and singing bowl healing, to kids' karate, to Ayurvedic medicine to integral psychotherapy, Ms. Metzger downplays her role in bringing the place together and growing it into something really special. She has highest praise for her volunteers and staff, especially several who first came to PCYH as students and volunteers and have moved to become now the Center's volunteer coordinators and operations and marketing managers.
"I've been really lucky with the people who have found their way through my door," she says. "I used to do it all myself and my body is telling me I can't do this by myself anymore, so I have amazing people helping me."
Ms. Metzger says she really didn't intend to become a yoga teacher and, now, owner of a yoga studio. She came to yoga in the mid-1980s to heal herself. Working for the state Department of Health, she developed "sick building syndrome" and became sensitive to the mold and other irritants that were in the ceiling tiles.
"I used to joke that I was the canary in the building," Ms. Metzger says. "It was a newly renovated building in downtown Trenton, and you couldn't open the windows. I developed pneumonia while pregnant with my second child, and I was also diagnosed with asthma. But this was part of my journey into finding yoga."
"I ultimately left (the state job) and found my way to the Kripalu Center, (in Lenox, Massachusetts) where I learned a whole new way of being in the body," she continues. "Everything I found at Kripalu, I wanted to recreate here, I wanted to have this oasis.
"I'm not sure what will happen here and how it will turn out," she reflects. "We have the space and a lot can happen here, and we're only limited by time and our imagination. As I said, as I've learned through my yoga life, the right people come through the door at the right time. It comes from the community."